Introduction.
The Grove Street Families are gang of hoodlums wearing green clothes as gang color and hang around the montgomery gym and the Asylum,marked as their territory.
They are regulary seen in the gym training or driving around town in their gang cars.
How to Join?
We are gang.That certainly means this gang does NOT Handle with applications.In order to join you need to RP Your way in."But how do I RP my way in?".Easy..You help us out,roll with us and when you have proven yourself worthy.You will be accepted as fresh member."And how do I get a new rank"First off.Asking it like that shows off your nothing but a greedy person.Promotion is only given when you prove you got guts and power to show what it means to be a GSF men.
The Original Gangster's
Carl Johnson
Carl "CJ" Johnson was one of the OG's of the gang,2nd in command and doing the drug running for the gang.Togheter with the fellow OG's they built up a great imperium in Los Santos,They had one enemy gang,named the Balla's,Regular gang wars were occuring for both gang's to gain turf of the city.But Grove was smarter by having members watching the area.Carl was living in The Johnson House,He kept running his drug affairs for 10 years,But then the cop were thinking it was time,Knowing that they couldn't sneak up on the GSF the only way to stop them was raiding them.5 Enforcer full of SWAT members were driving towards Grove,The sniper on the bridge soon saw the Cars comming and warned the gang about it.The GSF full emperium was up and Ready to battle the SWAT,As they arrived one big shootout started,Almost every member has fallen,While CJ was doing his best to hold up the cops,Sweet,Smoke,Ryder were making an escape plan.They put the car ready and as the SWAT kept shooting the members kept falling.Only 2 more members named Dwayne and Tom managed to get in the car,CJ was trying to run but the SWAT team had him pinned down and shot him 14 times,The rest had no chance but to flee.With CJ dieing,The Grove Street emperium stopped running in town.Thus making an end to the Grove.A few weeks Later the Ballas rolled in and took over every business in Los Santos.CJ was buried in the Los Santos graveyard.
Sweet
Sean "Sweet" Johnson was the official leader of the Grove Street Families,while CJ was running the drug interest in town.Sweet took care of the gun running.He made deals with Russian Gangster that shipped their guns off boats.Sweet and the homies were in many battles against the balla's,but they managed to re-win their turf every time.Sweet was living in his House.Where we had a good view on the main street.Sweet kept the gun deals running for 10 years untill the SWAT Team planned to raid the house,the sniper on the bridge saw the Enforcer's comming and called Sweet to warn him.Sweet called Smoke and Ryder and told them to get a car ready.While CJ,Sweet and the Grove members were holding off the SWAT Team.Smoke and Ryder were preparing the escape plan.Shortly after Sweet ran out of bullets having no choice but to start the car,Nearly all members were finished off and Two other members managed to jump in the car,Sweet shouted to CJ to get in the car,but it was too late,CJ was shot to death by the SWAT Team,And Sweet had no choice but to drive away,With CJ's passing,Grove's reputation drowned.With the balla's taking over they had no choice but to flee to a town,They discovered Palomino Creek and marked the Aslyum club as their turf.Their resident is currentley the boxing club in Montgomery.Where they train daily.While the resting members settle in.Sweet is busy contacting the gun runners in town.This story is to be continued...
Big Smoke
Melvin "Big Smoke" Harris,Former Enemy of Grove,Was shot by CJ in his Crack Palace in 1992,After CJ left,Smoke found a way out the window using the stair case to get down.He got in his Green Glendale and drove tothe hospital reviving from his wounds.He then lost his Crack Palace and felt guilty for all he done,He made the decision to apoligize to Sweet and CJ.He was given a final chance.He was the Driver of the gang.Driving the Members to places and arranging a new car for a member in need of one.Further he had no more input in the gang and was just side-member,However 10 years later the invasion of the SWAT Team came,While Sweet and CJ were holding off the cops with the rest of the Members,Smoke got into a side-alley taking a Green Glendale for them to use as getaway plan.While Ryder took the necesary things and stashed it in the car,Sweet entered the car and shouted for CJ to come,CJ was shot,and the rest had to flee,In Palomino Creek,With an outnumbered gang,Sweet has promoted Smoke to Shotcaller of the gang.And then he had more input in the gang once again.This story is to be continued...
Ryder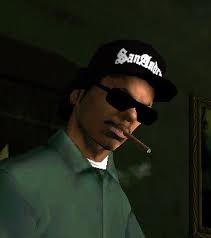 Lance "Ryder" Wilson,Former Enemy of Grove,Was shot by CJ at Pier 69,However he managed to jump off the burning boat,and got help by the hospital that was close.He felt guilty for all the happened and apoligized to CJ and Sweet,They given him a final chance and gave him the rank Treasurer.His job was to find out about the Balla's plans and intercept all their deals.He has continued to do this in 10 Years untill the SWAT Team invaded Ganton,Grove Street.While Sweet and CJ were holding up the cops,And Smoke was preparing the car,He took the important parts of drugs and guns and stashed them in the truck.Once they got in the car,CJ,However got shot and they had no choice but to flee.When arriving in the Montgomery Gym.Ryder was promoted to co-leader of the gang.Handling the drug running from now on.This story is to be continued
Application format:
App rules:Must be at least level 2.
Must be at least an active member,If you are marked as in-active,you may not apply.
Code:

IG Name:

Level:

Gang rank:

Which OG are you applying for?(Available OG's:Smoke/Ryder/CJ/OG Loc]:

Give a short explonation why you choose this OG[Minimum 20 words]

Explain the term MG

Explain the term PG:
Earning your payday...
Members that put in hard work for the gang aren't left out.Every member gets payed 100$ every Friday of the week.The money will be transfered to their bank accounts.
JOBS
Now as the gang gains members it is also operating in business.The main one is drug running/Trafficking.Every member will have a job to fullfill in the gang and must stick to it.If you complain about your job.Then why did you choose to follow your leaders?
The Ranks
Original Gangsta'
An OG of Grove is a leader of Grove and he tells the members what to do and the members gotta follow all orders or they are going to get beaten up for showing no respect to their leaders.The OG's discuss important bussiness of the gang with the shotcallers
Shotcalla'
The Shot Caller is the member that discuss main parts with the gang's they are the drivers on the streets and they will do all sorts of robberies or graffitti work with the other members.Their job is to help their homies at any time no matter what.
True Gangsta'
A True Gangsta' is a member that has been long enough in Grove to roll on their own and are respected at when the higher ranks see them
Young Gangsta'
A Young Gangsta' is a member that just earned his rank into the gang but has proved himself in actions within the Grove
Hustla'
A Hustla' is someone who hasn't earned any respect in the gang and are busy earning their rag with rolling and helping with the gang
The Members
Original Gangsta'
Nick Jones[Sweet]--------->Drug Running[Active]
Shotcalla'
--------------------[Ryder]
-------------------[Smoke]
True Gangsta'
Robert Jones[Ryder]------->Gun Runner[Active]
Lawrence Williams[OG Loc]----->Driver[Active]
Young Gangsta'
Tom Boegs---->Tagger[In-active]
Dwayne Jones------->Intercepting business deals.[Semi-in-active]
Hustla'
Jermaine Campbell--------->Tagger[Active]
Yuri Carter-------->Weed supplier[Active]
Outsider
Nicolas Djordjevic
Previous members:
Makaveli Maddoxx[BryanDan]----->Permanentley kicked from the faction------>Reason:left and due to OOC issues with another member
Dontae Williams[DumbGamer]---->Kicked from faction----->Reason:CK'd
Total members: 8 members
Active Members: 6 members
Semi-in-active members: 1 member
In-active members: 1 member
ALLIES:
-The Countryside Connection
-Waco Chrome Wolves
NEUTRAL
-Sheriff Department
-Emergency Medical Services
-The Camarilla
-Red River wolf Pack
ENEMY'S
-None
IC rules
1. Do not bother the cops around when it's not necesary
2.Keep guns conceiled as much as possible keep heavy weapons hidden in an alley or a vehicle
don't keep it holstered in public.
3.You are to follow the leader at any time no matter what
4.You are to respect lower ranks as well as higher ranks.
5.If you leave the gang you die.
OOC Rules:
1.Follow all server rules.You can own up to three strikes.When you have three strikes your getting kicked out.
2. Only members with at least level 2 will recieve weapons in Grove Street Families.
3.Keep /b at a minimum.Constant /b will lead in being suspended.
4.Anyone who flames another members get kicked out immediatley
5:Do not ask for a promotion.Doing so will extend your promotion time for 3 weeks.
6:If an admin speaks to you,Be polite
7:Being a higher rank doesn't give you the right to disrespect the lower rank
8:Smoke is a specialised character and will be chosen wisely.Asking to be him is auto-deny
9:No actions in front of the bank.
10:Server Rules
11.If a member doesn't log on in 3 days.He'll be put as in-active.If a member stays in-active for a week he'll get demoted when getting demoted from lowest rank your faction-kicked.
12.If a member goes in-active and tells Nick Jones the reason.He'll stay the same rank
Pictures of members!
Spoiler:
Media:
The Balla Shootout:
Spoiler: